RAFFI BOYADJIAN
Raff Boyadjian is an artist whose creative gift speaks eloquently, not only in the beautiful world of his paintings but also in the realm of his expression as a jazz singer, an avocation that he pursues as a fulfilling parallel to his artistic expression .
Born in Armenia in 1948, Boyadjian grew up in Gyumri, one of the country's cultural centers. As a youngster, his first impressions of life swelled in him as he absorbed the spirit of the people, their happiness and joy, the depth of their traditions, and the pride of their heritage. These impressions continue to spring fourth from him and are continually translated onto his canvas.
Raff Boyadjian studied fine art at several schools, including the prestigious University of Fine Arts and Theater. It was there that he mastered the art of painting and produced works that have been kept to this day by the school as examples of excellence for student reference.
Boyadjian's diplomat work, entitled "Circus", received widespread critical acclaim, and the work was subsequently exhibited in Moscow, Leningrad, Kiev, and other major Russian cities.
In 1981, Boyajian immigrated to America from the USSR to advance his artistic freedom. It was here in the US that his ideas and feelings began to flourish and take on new meaning. During the past two decades there have been numerous exhibitions of his work, both here and abroad, and his unique style continued to mature and gain in clarity and focus.
In 1989, under the patronage of Alan Pher, the president of French Senate, Boyadjian's work was chosen to represent the United States in the Bicentennial celebration commemorating the French Revolution, held at the Luxembourg Museum in Paris.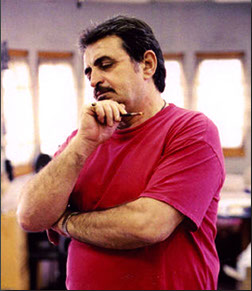 I paint music; I live music.
That is the harmony
of my life.